GAINESVILLE, Fla.
— OK, so it's a round about kind of warped (maybe even a little dark) way to look at things, but Myreon Jones is certainly not the first college athlete to get a do-over of late on his senior season. Won't be the last, either. The NCAA granted an extra year of eligibility to every underclassmen student-athlete affected by the pandemic in the winter and spring of 2020. That free COViD year has been a boon to hundreds over the past two years, with the fifth-year senior Class of '24 set to be the last.
Jones is the Class of '23. After what happened in '21-22, this is a do-over season.
"Pretty much, yeah," the Florida off-guard said earlier this week.
To backtrack, Jones was a sophomore enjoying a breakout campaign on a Penn State squad that was a lock for the NCAA Tournament when the world shutdown in March of 2020. A sharp-shooter from Birmingham, Ala., Jones had been a spot-duty freshman the year before, but in his second season was playing nearly 29 minutes a game, scoring 13.3 points, hitting 40.3 percent from the 3-point line and dishing three assists per game. The Nittany Lions were 21-10 and sat in fifth place in the Big Ten.
The program took a step back in '20-21, but Jones did not. He played more (30.3 minutes per game), scored more (15.3 points) and shot it nearly as well from distance (39.5 percent). The coach, however, was fired, so Jones hit the transfer portal and landed with the Gators. At UF,  his numbers — and confidence — took a nose dive in '21-22, the coach bolted after a disappointing NIT-bound seasoan and Jones was left to ponder what to make (and what to do?) with his fifth year and his third coach in three seasons.
After a couple meetings with the new UF coach, Todd Goldenand a couple conversations with his parents, Jones decided the best thing to do was to stick it out with the Gators and do everything in his power to flip his Florida narrative.
The process is well underway, what with the official start of '22-23 preseason practice on Tuesday, and the 6-foot-3, 180-pound Jones running the floor, letting fly and dropping some 3-balls as he looks to rediscover the free-flowing, free-minded player who was so good and so respected as a shooter during his days at State College, Pa.
"He talked about how he wanted me to get back to what I was at Penn State," Jones said of his initial conversations with Golden last spring. "He didn't really look at last year. He looked at the numbers at Penn State and said, 'We know you're that player and if you come back we'll get you back to those numbers.' "
Golden on that meeting: "I wanted to hear what he thought happened in terms of why his shooting did go down a little bit? Why he didn't think he had as much success as he's capable of? The thing for us, once he realized we wanted him to be back here, he definitely wanted to be here. That was really important to me." 

And now basketball, maybe more than ever, is really important to Jones. Not that it wasn't before, but now Jones, already with a UF degree in education in hand, has a more singular focus. In a touch of irony, it actually took one of his former Nittany Lions teammates to help get Jones to his best place entering Season No. 5.
During the offseason, Jones talked to John Harrar, a 6-9, 240-pound center, a friend he played alongside at PSU for three seasons. Harrar, like Jones, didn't have a great true senior-season experience. Also, like Jones, he'd graduated and decided to take advantage of that fifth year, courtesy of COViD.
But with a spin.
"He told me the biggest thing you can do as far as your mindset is look at this [fifth] year as a first year of being a pro," Jones said. "Take care of your body more. Be in the gym more. Just really set your life up around basketball. My goal is to be a pro. That's going to be my money-maker. So I need to take it as seriously as possible — like a job — and like it's how I'm going to earn a living."
Worth noting: Harrar improved his numbers across the board in his fifth year, including a career-best 64 percent from the floor, and was one of just two players in the Big Ten (first-team All-American Kofi Cockburn the other) to average a double-double.
Harrar signed a professional contract last month with a league in Spain.
Just where Jones, 23, will be one year from now? Well, that's all part of the process. Part of the journey.
The next leg of that journey, however, is getting back to what UF coaches call "Penn State Myreon." That's the guy who as a sophomore and junior started all 48 of the 50 PSU games he played and combined to average 14.3 points per game, hit 39.8 percent from the 3-point line and had a nearly 2-to-1 ratio in turnover versus assists.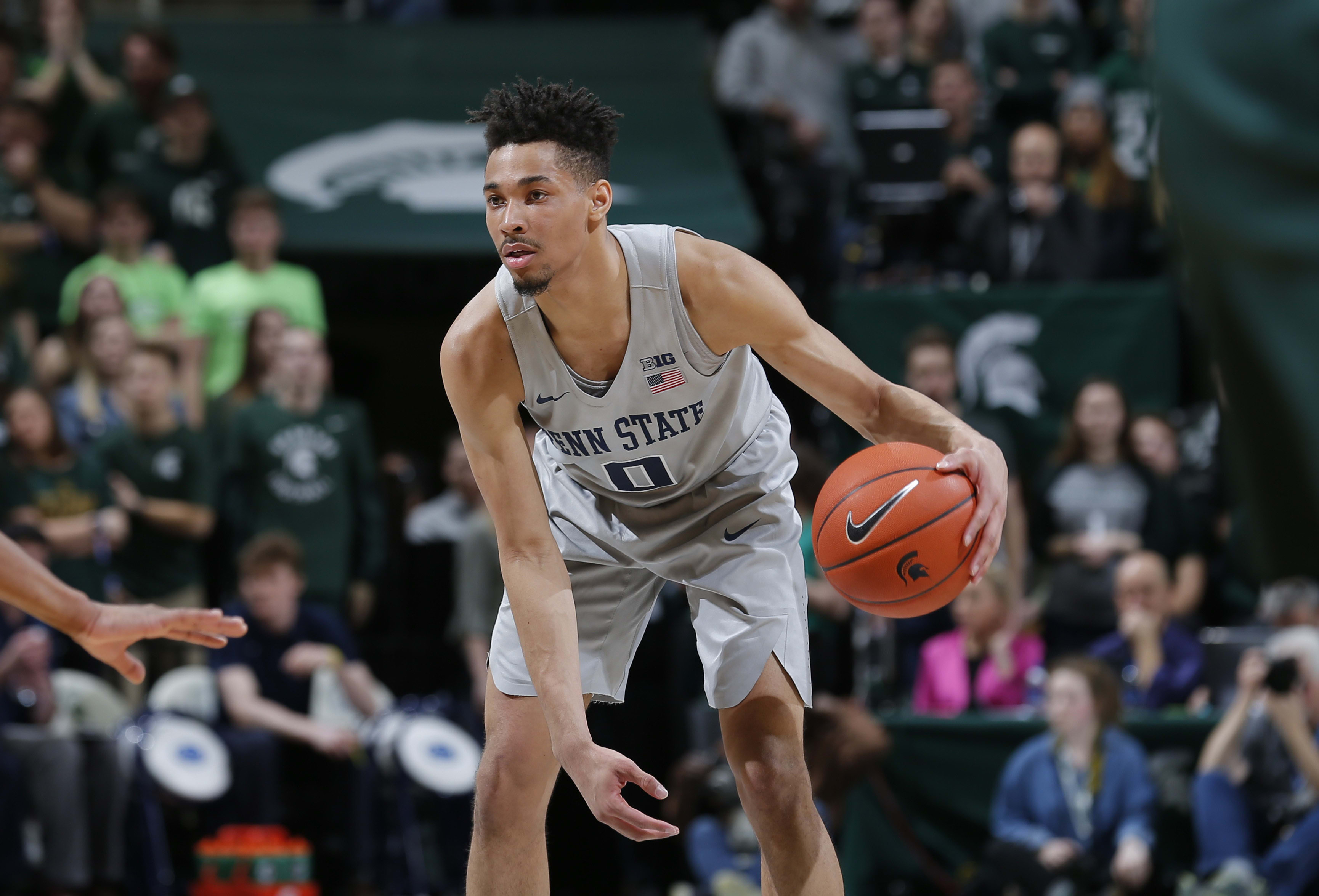 Last year with the Gators, Jones started 21 of 33 games, averaged 8.5 points, shot 32.1 percent from deep and had 52 assists to 43 turnovers. He may have been affected by a broken finger on his non-shooting hand, but never used the injury as an excuse.
The injury to his confidence, though, was much worse. It hit a low point when Jones lost his starting job midseason and his minutes went south. He played just 17 minutes in a home win over Mississippi State and did not attempt a shot. The Gators won the game, anyway.
"It just felt like it wasn't going to get better," said Jones, who halfway through Southeastern Conference play was making just 28.3 percent in league games. "There was a turning point where it did get better, but during that one phase it felt like nothing was going right and I just tried to fight through it."
Then came the six-game stretch late in the season when Jones, who was hitting 29.2 percent , bombed 22 of 43 from distance — that's 51.1 percent — with games of five at Missouri and a career-high tying seven 3-balls in a home win over Georgia. 
That's the Jones the coaching staff, including director of player development Taurean Greenis working daily to bring back.
"It's a fresh start for him, so just play with confidence," Green said. "That's it. It's really that simple."
His teammates second that.
"If you're in this gym, you know how good Myreon can shoot the ball," forward fellow fifth-year senior Colin Castleton said. "If you believe you can do something, it doesn't matter what anybody else tells you. So it'll be up to us to keeping telling him he can shoot the ball, handle the ball, come off screens and guard 1-thru-3. We're going to make him believe. He's definitely taken a big jump and still has a month or two left to go."
And this from point guard Kyle Loftonthe fifth-year transfer and four-year starter by way of St. Bonaventure: "I like Myreon. He's a tough kid who is extremely talented. I'm sure people think he had a down year [in '21-22]but he's ready for this year and ready to show people how he can play."
CHARTING THE GATORS

Myreon Jones statistics in three years at Penn State and one at Florida.

| Season (school) | Games / Starts | Scoring avg. | FG% | 3pt% |
| --- | --- | --- | --- | --- |
| 2018-19 (Penn State) | 30 / 0 | 4.0 | .298 | .277 |
| 2019-20 (Penn State | 25 / 24 | 13.3 | .444 | .403 |
| 2020-21 (Penn State) | 25 / 24 | 15.3 | .394 | .395 |
| 2021-22 (UF) | 33 / 21 | 8.5 | .355 | .321 |
The numbers do not lie. Jones has shown a lot of people he can play at a high level for a high-major program. But his forte is shooting from deep, so his season will be defined by what sort of percentages he puts up from beyond the arc.
So, yes, there's some pressure there, but Golden is confident Jones is in a good place.
"Myreon is a seasoned vet. He has a great disposition and really understands basketball. He's a guy you don't have to coach up much on the detail," Golden said. "You can't buy that experience. He's been at a high-major level for four years now and on some good teams. He's a guy who should have a bounce-back year and should impact winning for us."
If Jones' career had ended after four years he would have exited college basketball with the resume of player that started more than half of his games and scored more than 1,000 points playing for two power-five brand-name programs, plus walked across the stage to a degree. Pretty solid, but not good enough for Jones.
Oddly, COViD — the circumstances, not the virus — came through in a good way.
"It's like a second chance, but also my first chance at being a pro, that's how I'm looking at it," Jones said, harkening back to his Harrar-induced mindset. "This is my livelihood now. The degree, especially from a place like Florida, is great. Walking across that stage was great. My mom loved it. But there's another stage I dream of walking across, you know what I'm saying?"