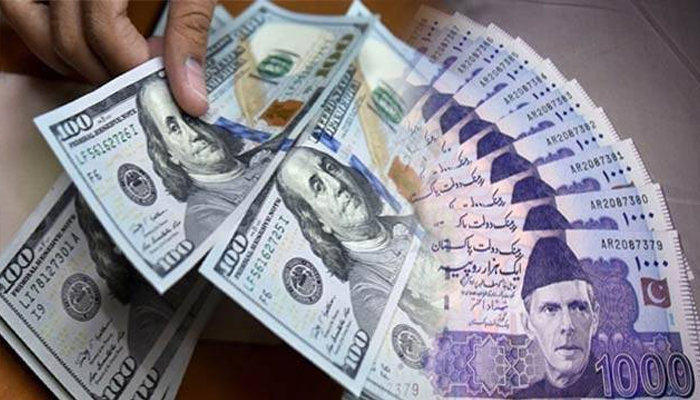 Rupee closes at 176.49 against the US dollar in interbank market.
Dealers believe rupee will gain ground against greenback this week.
Local unit has depreciated by 12.02% since July 1, 2021.
---
KARACHI: The Pakistani rupee fell to 176.49 against the US dollar on Monday amid the reluctance of the central bank to intervene in the foreign exchange market to ease the pace of the currency's decline.
On Monday, according to data released by the State Bank of Pakistan (SBP), the rupee closed at 176.49 against the US dollar in the interbank market.
Currency dealers believe that the rupee will gain ground against the greenback this week aided by inflows from exporters and hopes of an approval of the International Monetary Fund (IMF) loan programme.
With a fresh decline of 0.14%, the rupee has depreciated by 12.02% (or Rs18.95) since the start of the current fiscal year on July 1, 2021, data released by the central bank revealed.
The rupee has maintained the downtrend for the past eight months. It has lost 15.9% (or Rs24.44) to date, compared to the 22-month high of Rs152.27 recorded in May 2021.
A foreign exchange trader said, "We are slightly bullish on the rupee next week as we expect the local currency to appreciate due to selling of dollars from exporters, lower import payments, and the likely approval of the $6 billion IMF Extended Fund Facility (EFF)."
Analysts said the markets are gearing up for this week, which has two key events taking place; the central bank's monetary policy today and IMF's executive board meeting scheduled for January 28 to consider Pakistan's request for the completion of the sixth review and release of $1 billion tranche under EFF.
Traders are watching how the SBP's monetary policy committee considers rising inflationary and external account pressure while taking the interest rate decision.
"If the approval [from IMF] is granted, markets will witness a flurry of activities, including fresh bond issuance, multilateral engagements, more fiscal space generating a growth burst, expedited privatisations, relief from FATF [Financial Action Task Force], etc," said Tresmark in a report.
"We also see the momentum of selling dollars forward to pick up significantly in the ongoing week."
According to the report, analysts do not see the rupee over 180 per US dollar for June close and with the status of the rupee as still being mildly undervalued.