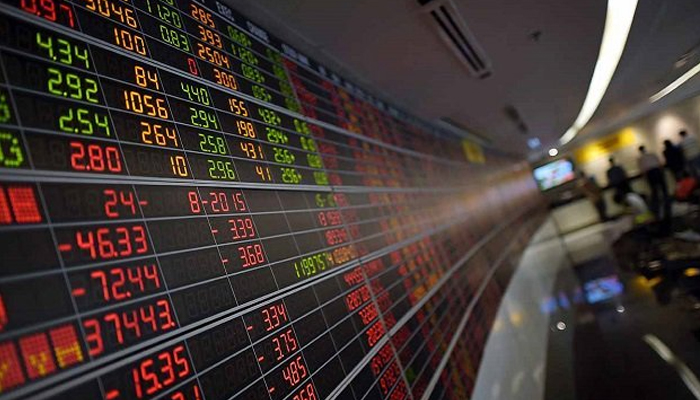 Benchmark KSE-100 index recorded a decrease of 0.06% to settle at 44,871.7 on Friday.
Trading volumes drop to 262.05 million shares compared with Thursday's tally of 372.4 million.
A report by JS Global notes that KSE-100 index has turned out to be "one of the worst-performing markets during 1QFY22."
---
KARACHI: The Pakistan Stock Exchange (PSX) concluded the week on a negative note as the benchmark KSE-100 index shed nearly 30 points in Friday's session.
Overall a dull session was witnessed at the bourse today as the upcoming review of the International Monetary Fund (IMF) programme kept the investors on the sidelines.
Moreover, a tumultuous geopolitical situation in Afghanistan and discouraging economic data also played on investors' minds and resulted in range-bound trading.
At close, the benchmark KSE-100 index recorded a decrease of 27.9 points, or 0.06%, to settle at 44,871.7.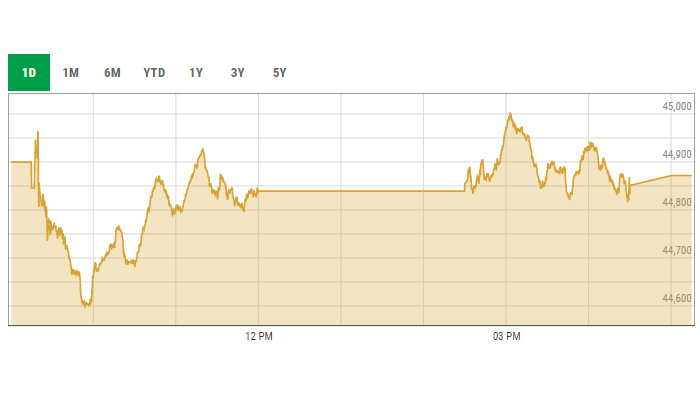 A report from Topline Securities noted that lacklustre activity was observed at the exchange as the index traded between an intra-day high and low of 104 points and 300 points.
Overall trading volumes dropped to 262.05 million shares compared with Thursday's tally of 372.4 million. The value of shares traded during the day was Rs9.02 billion.
"Major contribution to the index came from Searle, National Refinery, Attock Refinery, Colgate-Palmolive and Kohat Cement as they cumulatively contributed 366 points to the index," it said.
During the session, shares of 561 listed companies were traded. At the end of the session, 368 stocks closed in the green, 178 in the red, and 15 remained unchanged.
TPL Corp was the volume leader with 15.3 million shares, gaining Rs0.05 to close at Rs20.42. It was followed by Byco Petroleum with 14.2 million shares, gaining Rs0.02 to close at Rs8.20, and Hascol Petroleum with 14.2 million shares, gaining Rs0.55 to close at Rs7.03.
Quarterly review
A report by JS Global noted: "After giving a seven-year high performance of 38% return in FY21, KSE-100 index has turned out to be one of the worst-performing markets during 1QFY22."
"The index declined 5% in Pakistani rupee terms and 12% in US dollar terms in the quarter under review," it said.
The brokerage house observed that all the gains since end-December 2020 have been wiped off as "MSCI's decision to downgrade Pakistan to Frontier Markets accelerated foreign selling, rising import bill and current account deficit mounted pressure on rupee-dollar parity, monetary tightening has been commenced by the central bank, raising policy rate by 25bps to 7.25% along with some policy shifts to curb imports growth, and a bill was moved in US Senate to put sanctions on Afghanistan and its allies with possible implications on Pakistan."
Foreign selling clocked in at $44.8 million in September 2021 which is more than half of the foreign selling of $83.3 million in 1QFY22.
"This was primarily absorbed by individuals, banks and insurance," it added.