Benchmark KSE-100 index records an increase of 532.86 to settle at 44,899.60 points.
The index recorded a decrease of 5.2% during 1QFY22 after positive return during last five quarters.
Arif Habib Limited highlights September as "worst month after March 2020."
---
KARACHI: The Pakistan Stock Exchange (PSX) faced another round of battering on Thursday as the benchmark KSE-100 plunged nearly 500 points in intra-day trading, however, recouped some of the losses by the end of the session.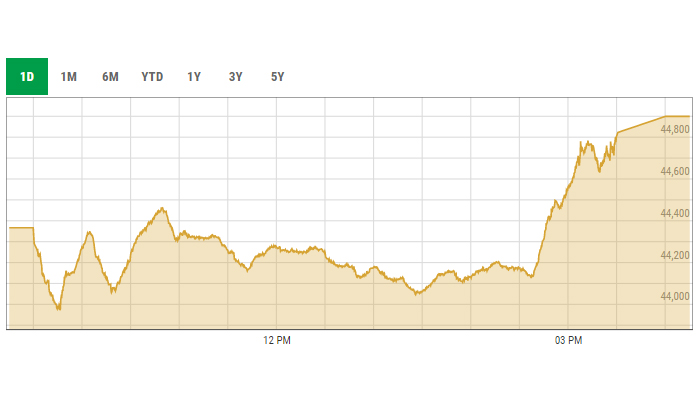 The benchmark KSE-100 index closed the session of September in the green with an increase of 532.86 points or 1.20%, to settle at 44,899.60 points.
In line with the performance in the previous session, the trading session kicked off on a negative note and maintained its downtrend till midday as the index plunged below the 44,000-point mark. However, late buying helped the index recoup almost all the losses recorded earlier.
During the session, shares of 557 listed companies were traded. At the end of the session, 385 stocks closed in the green, 157 in the red, and 15 remained unchanged.
K-Electric was the volume leader with 32.5 million shares, gaining Rs0.69 to close at Rs4. It was followed by Byco Petroleum with 29.8 million shares, gaining Rs0.45 to close at Rs8.18, and Azgard Nine with 20.8 million shares, gaining Rs1.17 to close at Rs20.15.
Monthly overview
The benchmark KSE-100 index recorded a decrease of 5.3% during 1QFY22 after positive returns during the last five quarters.
A report from Arif Habib Limited noted that the benchmark equity bourse could not find balance this month, with the index closing down 2,529 points to settle at 44,899.6.
The brokerage house identified September as "worst month after March 2020".
"With the global economy struggling to combat the unprecedented sharp jump in commodity prices, Pakistan too displayed its highest ever trade deficit in August at Rs6.3 billion," it said, adding that a republican bill draft caused much anxiety due to concerns on the foreign policy front where the US might announce sanctions on the Taliban.
Average daily volumes during September settled at 4.1 million shares (+14% month-on-month), while the average traded value also increased by 7% to $83 million.
Foreign investors offloaded shares worth $36 million, predominantly in banks ($36.9 million), cement ($8.9 million), fertiliser ($3.6 million), and exploration and production ($2.5 million).
Net buying of $8.3 million, $3.1 million and $1.1 million was witnessed in technology, others, oil and gas marketing companies, and the food sector.