Benchmark index closes the session at 46,729.96 points with a decline of nearly 200 points on Tuesday.
Trading volume surge to 423.8 million shares compared to 417.8 million shares traded on Monday.
MSCI announcement regarding the reclassification of PSX is due today (September 7).
---
KARACHI: Pakistani stocks extended their losses on Tuesday with investors still jittery over a possible reclassification of the Pakistan Stock Exchange (PSX) at the Morgan Stanley Capital International (MSCI) index.
MSCI would announce the reclassification decision of Pakistan from Emerging Markets (EM) to the Frontier Market (FM) today.
The potential reclassification is expected to be in one go on November 21 semi-annual index review. The MSCI has consulted with the market participants till August 31, 2021.
Moreover, a lack of positive triggers and the upcoming Monetary Policy Committee (MPC) meeting on the policy rate, scheduled later this month, forced investors to take a cautious stance and they resorted to profit-taking.
In the morning, the benchmark KSE-100 index opened on a positive note, however, as an uneasy calm prevailed in the market, the index succumbed to selling pressure from the cement sector.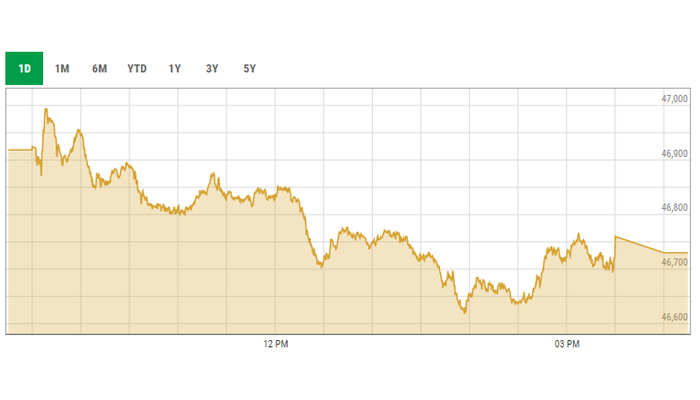 The benchmark KSE-100 index shed 188.56 points or 0.40% on Tuesday, to close at 46,729.96 points.
A report from Topline Securities noted that the benchmark KSE 100-index continued to slide owing to the concerns regarding the reclassification of Pakistan from the MSCI Emerging Market Index to the MSCI Frontier Market Index which is expected later in the evening.
"The cement sector witnessed aggressive selling owing to higher coal prices after which the sector closed down on an average of 1.45% for the day," it said.
On the corporate front, Nestle Pakistan notified the bourse that the sponsor purchased 1.15 million shares in the Negotiated Deal Market (NDM) market at a price of Rs6,000 per share after which the stock closed up 7.5% for the day.
Lucky Cement, TRG Pakistan, PSX, Oil and Gas Development Company, and Pakistan Oilfield were the major decliners today and dragged the benchmark KSE-100 index lower by a total of 102.5 points.
Volumes continued to remain dry with the total volume and value traded clocking in at 420 million shares and Rs11.2 billion respectively.
Trading volume rose to 423.8 million shares compared to 417.8 million shares traded on Monday (September 6).
During the session, shares of 520 listed companies were traded. At the end of the session, 129 stocks closed in the green, 373 in the red and 18 remained unchanged.
TPL Corp was the volume leader with 41.8 million shares, gaining Rs0.68 to close at Rs25.28. It was followed by Kohinoor Spinning Mills with 33.7 million shares, losing Rs0.07 to close at Rs6.81 and Pakistan International Airline Corp with 29.8 million shares, gaining Rs0.37 to close at Rs5.87.
Sectors contributing to the performance included cement (-75 points), exploration and production (-39 points), autos (-29 points), oil and gas marketing companies (-23 points) and chemical (-21 points).
Individually, stocks that contributed positively to the index included Nestle Pakistan (+23 points), Habib Metro Bank (+17 points), Meezan Bank (+14 points), Packages Limited (+12 points) and IGI Holdings (+10 points).
Meanwhile, stocks that contributed negatively were Lucky Cement (-39 points), TRG Pakistan (-19 points), HBL (-15 points), Oil and Gas Development Company (-14 points) and Pakistan State Oil (-13 points).