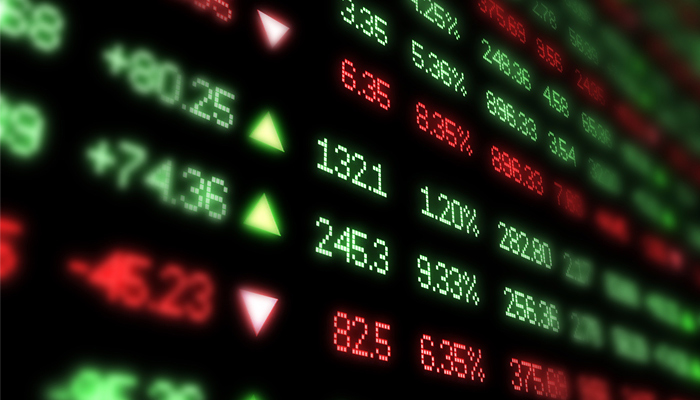 IT package by govt, encouraging financial results help arrest further decline.
KSE-100 plunges 1,692 points in outgoing week.
"Until geopolitical dust settles, we expect range-bound activity to prevail in the market," AHL predicts.
---
KARACHI: The Pakistan Stock Exchange (PSX) continued to be ravaged as the geopolitical tensions amid the Russia-Ukraine conflict worsened; however, the announcement of incentives worth Rs1 billion for the IT sector helped arrest a further downward spiral at the stock market.
The KSE-100 plunged 1,692 points or 3.7% in the outgoing week to settle at 43,984 points.
The week started on a bearish note but the worst day for the PSX this week was Thursday when Russia officially launched an intervention in Ukraine. The KSE-100 index shed 1,300 points on that day alone. 
Commodity prices were also triggered where Brent Oil crossed the $100 mark following the move.
Other concerns such as the Financial Action Task Force's (FATF) decision together with selling spree during the ongoing roll over week, also kept the index under pressure
"Foremost reason for negative momentum during the week was the anxiety that the State Bank of Pakistan (SBP) might move toward monetary tightening in light of rising commodity prices due to the Ukraine-Russia conflict," JS Global analyst Waqas Ghani said.
Other major developments during the week were: high-speed diesel shortage looming, oil companies warn the government, Oil and Regulatory Authority (OGRA), Nepra delays passing on Rs28 billion extra burden to consumers, Moodys said that Sukuk and the IMF package would help shore up Pakistan's economy, supernet awarded multiple contracts worth over Rs450 million by ZTBL, Special Economic Zones on Pak-Iran border proposed, ECC cleared legal mechanism for barter trade with Iran and Afghanistan, NBP fined $55 million by US authorities for anti-money laundering violations, compliance failures.
Meanwhile, foreign selling was witnessed this week, clocking in at $3.2 million against a net sell of $1.97 million recorded last week. Selling was witnessed in cement ($2.1 million), and technology ($1.7 million).
On the domestic front, major buying was reported by banks ($0.6 million), followed by all other sectors ($0.5 million).
During the week under review, average volumes clocked in at 299 million shares (up by 20% week-on-week), while average value traded settled at $38 million (up by 29% week-on-week).
Major gainers and losers of week
Sector-wise negative contributions came from technology and communications (-342 points), commercial banks (-243 points), cement (-222 points), oil and gas exploration companies (-146 points), and fertiliser (-127 points).
Whereas sectors which contributed positively were automobile assembler (+18 points), ii) real estate investment trust (+10 points) and iii) tobacco (+9 points).
Scrip-wise major losers were TRG Pakistan (-201 points), Lucky Cement (-133 points), Systems Limited (-109 points), HBL (-100 points) and Pakistan Petroleum (-76 points).
Meanwhile, scrip-wise major gainers were UBL (+46 points), Millat Tractors (+23 points), and Habib Metropolitan Bank (+16 points).
Outlook for next week
A report from Arif Habib Limited predicted: "Any de-escalation in Russia-Ukraine tensions could propel a rebound in global markets. Until geopolitical dust settles, we expect range-bound activity to prevail in the market."
The market participants also remain wary of high commodity prices so any indication of oil prices cooling down would aid the sentiment in the local bourse, it said.
The brokerage house noted: "Keeping in view the ongoing result season, certain sectors and scrips are expected to stay under the limelight."
"The KSE-100 is currently trading at a PER of 4.9x (2022) compared to the Asia-Pacific regional average of 13.5x while offering a dividend yield of 8.9% versus 2.4% offered by the region," the brokerage house stated.