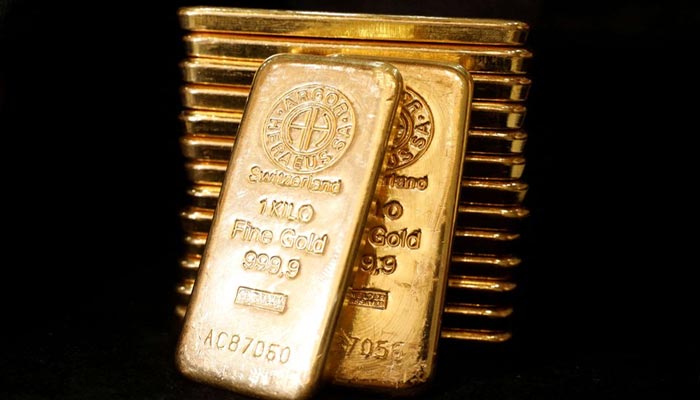 Price of yellow metal settles at Rs126,100 per tola.
Dealers say minimal demand for gold is coming from investors.
Silver prices in the domestic market remained unchanged.
---
Gold prices eased on Monday as investors assessed how the State Bank of Pakistan (SBP) is likely to respond to surging inflation and concerns over economic growth spurred by the new Omicron coronavirus variant.
The price of yellow metal receded by Rs50 per tola and Rs43 per 10-gram to settle at Rs126,100 and Rs108,110.
Despite the wedding season, local dealers had told Geo.tv that the demand remained subdued because of uncertainty and the lack of purchasing power.
"The minimal demand for the precious commodity is coming from investors who are shifting their money from currency markets to commodity markets," a dealer had said.
The international gold price edged lower by $5 per ounce to settle at $1,805 in thin trade on Monday as the US dollar rebounded, though bullion was still hovering close to a one-week high as concerns over the Omicron coronavirus variant increased safe-haven demand.
"While there is a firmer US dollar, there isn't a lot of movement in gold today," said Quantitative Commodity Research analyst Peter Fertig, adding that one of the main reasons for the lack of liquidity is closed markets over Christmas.
Slightly higher yields increase the opportunity cost for holding gold, which is weighing a little on gold prices, Fertig added.
"Gold faces resistance just above $1,815…it will continue to struggle to hold on to gains at these levels unless the US dollar moves sharply lower this week," said Jeffrey Halley, a senior market analyst at OANDA.
Meanwhile, silver prices in the domestic market remained unchanged at Rs1,460 per tola and Rs1,251.71 per 10 grams.