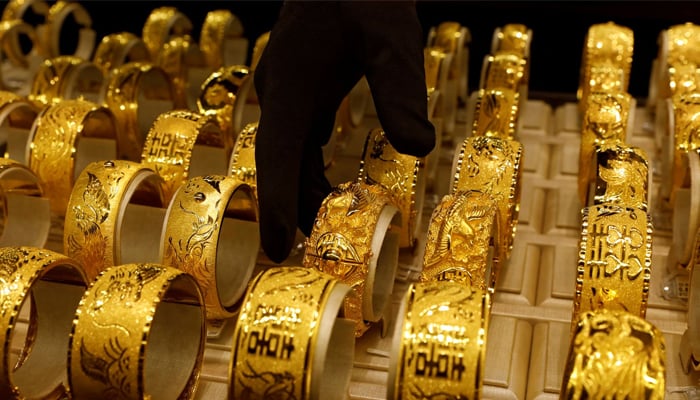 Bullion price settles at Rs113,500 per tola on Thursday.
Dealers believe that a price decline will boost demand for the precious commodity.
International gold price drops by $18 per ounce to $1,723.
---
KARACHI: Gold prices slipped to a one-week low on Thursday as a forward movement in global equities affected demand for the safe-haven metal.
Gold prices in the local bullion market lost Rs200 per tola and Rs172 per 10 grams to reach Rs113,500 per tola and Rs97,308 per 10 grams in line with declining prices in the international markets.
The precious commodity closed at Rs113,700 per tola and Rs97,480 per 10 grams on Wednesday.
Gold dealers believe that a price decline will boost demand for the precious commodity.
With wedding season drawing close, the demand for the yellow metal is slightly improving in the domestic market.
Dealers said that the market was witnessing an unusual phenomenon, as the rates of gold and stocks were also falling along with the rupee — usually, they perform inversely.
"This phenomenon tells us that gold is no more acting as a haven against losses in riskier assets," the dealers added.
The international gold price dropped by $18 per ounce to $1,723 on Thursday as it set for a second quarterly drop in three quarters as the prospect of the US Federal Reserve tapering its pandemic-era stimulus strengthened the greenback, making bullion more expensive for holders of other currencies.
"Gold is lacking direction in the short-term as money whipsaws between different asset classes with the dollar being the ultimate hedge against most risk as opposed to gold," Michael Langford, director at corporate advisory AirGuide said.
However, it is pertinent to mention that the gold rates in Pakistan are around Rs1,500 below cost compared to the gold rate in the Dubai market.
Meanwhile, silver prices in the domestic market remained unchanged at Rs1,400 per tola and Rs1,200.27 per 10 grams.
— With additional input from Reuters