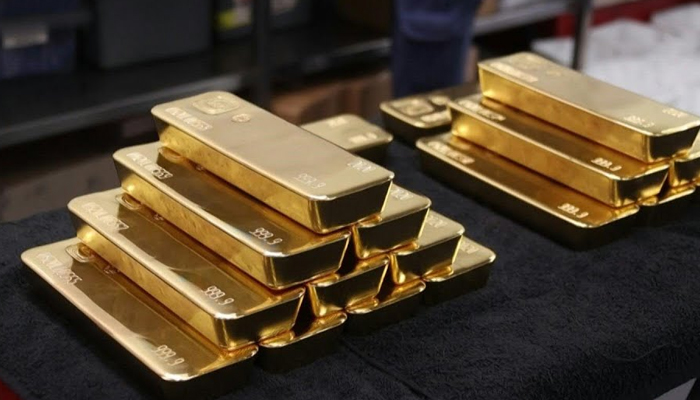 Gold goes down Rs200 at Rs126,000 per tola.
Bullion price settles at Rs108,025 per 10 grams.
Silver prices remain unchanged at Rs1,460 per tola.
---
KARACHI: In line with the trend in global markets, gold prices in Pakistan recorded meagre losses on Wednesday.
Gold was down by Rs200 at Rs126,000 per tola and increased by Rs171 to Rs108,025 per 10 grams.
The rates of gold were Rs126,200 per tola and Rs108,196 per 10 grams on Tuesday.
Meanwhile, silver prices in the domestic market remained unchanged at Rs1,460 per tola and Rs1,251.71 per 10 grams.
Gold eases in international market
Gold prices retreated from a more than one-month peak hit in the last session, as a stronger US dollar and increased appetite for riskier assets depressed sentiment.
Spot gold fell 0.3% to $1,800.02 per ounce, while US gold futures dropped 0.6% to $1,800.
"The main market driver is the decline that was seen on the euro-dollar…the dollar is strengthening and this is not the best thing for gold," Carlo Alberto De Casa, a market analyst for Kinesis, said.
Despite the rise in Omicron cases, investors are waiting to see if the US Federal Reserve will hike interest rates three times in the coming year, De Casa said, adding that central bank policies will also be a market driver in 2022.
Higher rates increase bond yields, making non-yielding bullion less attractive.
---
— With additional input from Reuters