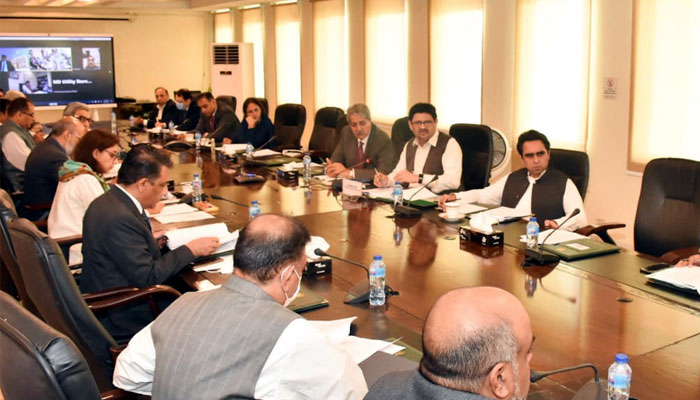 ECC approves lifting ban on hundreds of items.

Trading partners raised "concerns" over import ban.

The import ban was imposed on May 19.
---
ISLAMABAD: The Economic Coordination Committee (ECC) Friday approve lifting the ban on hundreds of items after Pakistan's trading partners raised "concerns".
In a statement, the Finance Division said that the ECC approved lifting the import ban on 33 classes or categories of goods — covering more than 860 products or tariff lines.
The ECC meeting was chaired by Finance Minister Miftah Ismail, with federal ministers, state ministers, and officials from the government's economic team in presence.
The May 19 ban was imposed as Pakistan's current account deficit (CAD) was soaring persistently and the rupee was coming under pressure due to shortage in dollars.
The ECC decided to lift the ban "owing to serious concerns raised by trading partners on the imposition of the ban and considering the fact that the ban has impacted supply chains and domestic retail industry".
Further, the ECC also recommended the release of held-up consignments that had arrived after June 30 up to July 31 with payment of a surcharge.
The ECC's approval comes after Finance Minister Miftah announced scrapping the import ban — three months after the restriction was imposed — as the country's economy sees a breather after positive cues.
The finance minister, in a press conference alongside members of the economic team, said that the import ban on non-luxury items was being lifted in line with the International Monetary Fund's (IMF) demands.
Not only did he announce the lifting of the ban, but the finance minister vowed that he would impose heavy regulatory duties on the import of luxury items to ensure that their level stays at the minimum.
What do experts say?
Uzair Younus, director of the Pakistan Initiative at the Atlantic Council's South Asia Center, said this decision will not have a major impact and the signal that this was going to happen was given weeks ago.
"The State Bank of Pakistan (SBP) is continuing to restrict letter of credits (LCs) which is how imports are being slowed and this is likely to continue to maintain somewhat of a balance between imports and exports," he said.
Alpha Beta Core CEO Khurram Schezad, however, thinks that the government was "too early" in lifting the ban on imports.
"I think it's a little early, but on the other hand, we have to be liberal in trade given the fact that IMF, WTO, and other trade pacts would want countries to stay liberal in both imports and exports," he said.
Analyst Saad Ali said that the government is complying with IMF conditions ahead of programme resumption, but it will counter the decision with prohibitive taxes on non-essential and luxury imports.
Talking about the impact of the decision, Ali said that given that interest rates are high and the rupee remains quite weak, he doesn't expect a quick or big increase in imports.
"If the economy continues to improve, with the realisation of external flows in the coming months, then imports may start to rebound. This should not materially change CAD in the coming months."