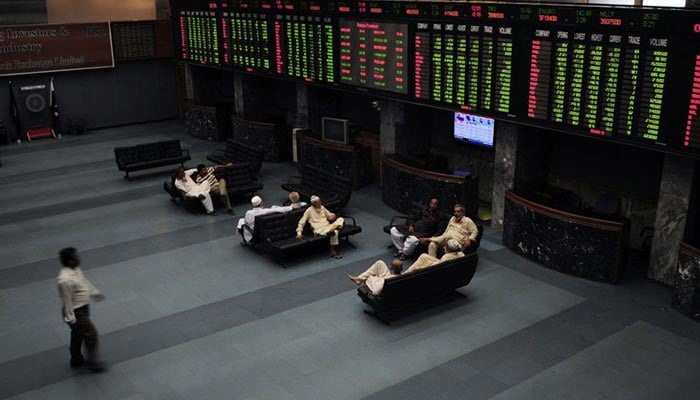 KSE-100 index closes at 42,096.24 points.
PSX records an increase of 670.87 points.
Shares of 345 companies were traded.
---
KARACHI: The bulls maintained their grip on the Pakistan Stock Exchange (PSX) for the fourth consecutive session and the benchmark KSE-100 index powered past the 42,000-point mark in a rally driven by positive news regarding the International Monetary Fund (IMF) programme.
The uptrend in the stock market was also fuelled by news of Chief of Army Staff General Qamar Javed Bajwa speaking with the authorities of the United Arab Emirates and Saudi Arabia regarding the IMF programme.
Moreover, continuous appreciation of the Pakistani rupee against the US dollar and encouraging financial results acted as a catalyst and spurred interest in various stocks.
At close, the benchmark KSE-100 index closed at 42,096.24 points with an increase of 670.87 points or 1.62%.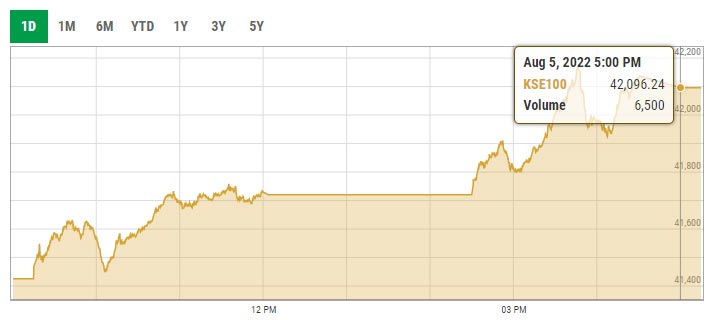 A report from Arif Habib Limited noted that bulls triumphed in the trading session at PSX today. In the first trading session, the KSE-100 index remained in the green zone as value buying was witnessed across the board.
The brokerage house noted that in the second session, investors gained confidence due to positive news flows regarding the IMF programme resumption as the Pakistani rupee further appreciated against the US dollar.
"Additionally, positive results announcement triggered the investor participation. Refinery and cement sectors remained in the limelight," it said.
Sectors contributing to the performance included banks (+181.8 points), cement (+134.4 points), automobile assembler (+42.8 points), oil marketing companies (+39.4 points), and power (+37 points).
Shares of 345 companies were traded during the session. At the close of trading, 264 scrips closed in the green, 58 in the red, and 23 remained unchanged.
Overall trading volumes rose to 406.68 million shares compared with Thursday's tally of 275.43 million. The value of shares traded during the day was Rs11.63 billion.
Cnergyico PK Limited was the volume leader with 64.34 million shares traded, gaining Rs0.51 to close at Rs5.51. It was followed by Pakistan Refinery with 29.93 million shares traded, gaining Rs1.17 to close at Rs18.01 and WorldCall Telecom with 20.36 million shares traded, gaining Rs0.07 to close at Rs1.30.