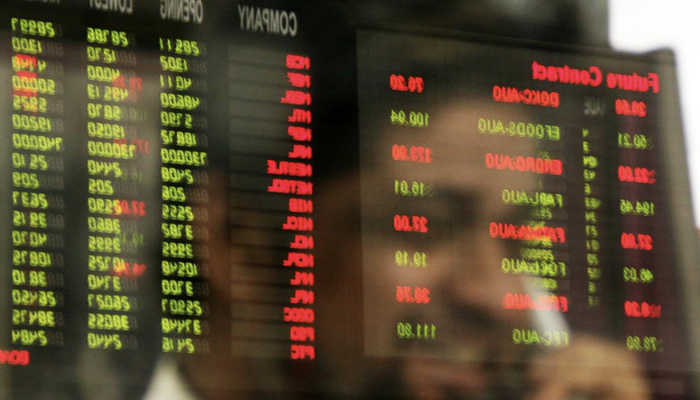 Investors opt to make fresh investment in stocks.
Market remains in the green throughout the session.
KSE-100 index rise by 439.27 points to close at 44,339.95 points.
---
KARACHI: The Pakistan Stock Exchange (PSX) edged up on Monday in guarded trade as investors priced in central bank's liquidity injection amid upbeat large-scale manufacturing (LSM) numbers released last week.
Investors opted to make fresh investment in stocks that had fallen to attractive valuations due to the recent bear run.
Trading kicked-off on a positive note and the market remained in the green for most part of the session.
Arif Habib Limited in its report stated that the benchmark KSE-100 index continued its bullish trend as investor confidence boosted up from last week OMO injection creating stability in the market.
"Profit-taking occurred in the first trading hour then market stayed in the green zone throughout the day," it said, adding that bullish trend was observed mainly in the cement and steel sector.
In technology sector, TRG Pakistan made the journey to north by hitting circuit as the board of directors have decided to continue to work towards further maximising value and capital returns of its proceeds for the company and its shareholders.
Today, the benchmark KSE-100 index rose by 439.27 points, or 1%, to close at 44,339.95 points.
A report from Topline Securities noted that investors cheered the interesting move by the State Bank of Pakistan (SBP) as they conducted a seven- and 63-day open market operation (OMO) injection last week on Friday which gave a signal of stability to the market.
"Major contribution came from TRG Pakistan where the company notified the exchanged that TRG international will transfer the portion of liquid asset of TRG Pakistan in a wholly owned subsidiary of TRGI (SPV)," it said.
Shares of 343 companies were traded during the session. At the close of trading, 248 scrips closed in the green, 76 in the red, and 19 remained unchanged.
Overall trading volumes dropped to 238.45 million shares compared with Friday's tally of 252.2 million. The value of shares traded during the day was Rs9.4 billion.
TRG Pakistan was the volume leader with 25.7 million shares traded, gaining Rs7.98 to close at Rs114.41. It was followed by WorldCall Telecom Limited with 17.45 million shares traded, gaining Rs0.04 to close at Rs2.19 and Byco Petroleum with 13.9 million shares traded, losing Rs0.22 to close at Rs6.17.