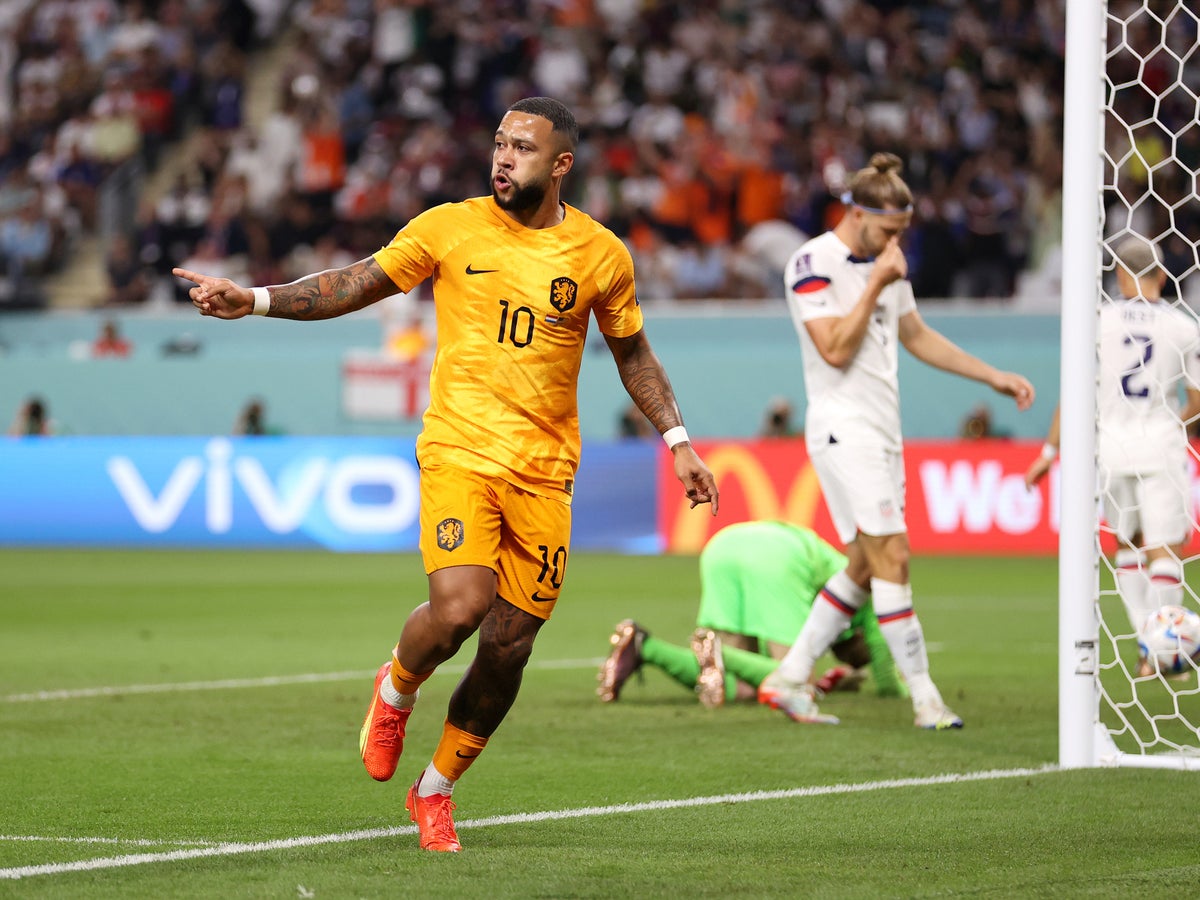 What we've learned as we enter the World Cup 2022 knockout stages | You Ask The Questions
Argentina play Australia at the World Cup as the knockout stage continues in Qatar. Lionel Messi will continue his quest to win the World Cup against an Australia who defied the odds to reach the last-16, with a place in the quarter-finals up for grabs. Netherlands defeated the USA in the early match, so the winner here will face the Dutch on Friday 9 December.
Australia are looking to make history by reaching the quarter-finals of the World Cup for the first time, but the Socceroos have already exceeded expectations by beating Denmark and Tunisia to second place in Group D. Graham Arnold's side may lack star power but they more than make up for it in togetherness and team spirit, as the nation dreams of pulling off what would perhaps be the biggest upset in World Cup history.
Argentina finished top of Group C after recovering from their shock opening defeat to Saudi Arabia, with wins over Mexico and Poland steering La Albiceleste towards the last 16. Argentina's defeat to Suadi Arabia will show Australia that anything is possible, but Messi and his team-mates will also know that they cannot afford to underestimate the Socceroos here.
Follow all the action with our live blog below, following reaction to Netherlands vs USA in the early match.
1670092257
World Cup 2022: Argentina vs Australia
There's been terrific support for both nations at this World Cup and tonight is set to be no different!

Kick-off at the Ahmad bin Ali Stadium is just 30 minutes away!
Kieran Jackson3 December 2022 18:30

1670091657
World Cup 2022: Argentina vs Australia
Australia to attack Argentina 'all guns blazing' in World Cup round of 16

The Socceroos were surprise qualifiers from Group D, not least after losing their first match 4-1 against France.

But successive 1-0 wins over Tunisia and Denmark took Australia to the knock-out stages for the first time since 2006, and Arnold insists they are not finished yet.

"Look, the group games are past us and it's a one-off game, anything could happen," said Arnold. "It's 11 v 11, a battle, a war and we've got to fight that. We'll give it everything, all guns blazing.

"We respect Argentina, for sure, but we can't focus solely on them. We respect them but we respect ourselves and what we bring to the table."

Arnold feels Australia's success is payback for a gruelling qualifying campaign, where Covid restrictions back home meant playing most of their matches away, including five in Qatar itself.

"The universe is paying us back for the hard work we put in," he added. "We played four games out of 20 at home, and we had some hard journeys."

Kieran Jackson3 December 2022 18:20

1670091057
World Cup 2022: Argentina vs Australia
Is this the most unpredictable World Cup in recent history?
The World Cup group stage has thrown up its fair share of surprises in 2022.

Argentina, France, Spain, Portugal and Brazil all suffered defeats against lower-ranked opposition on the way to qualifying for the last 16, while Germany and Belgium exited the competition on the back of shock losses.

Is this unprecedented or simply the continuation of a trend? Here, we compare group stage results in 2022 with the previous six World Cups contested by 32 teams.

This is the first World Cup since the expansion to 32 teams in which no team has qualified from the group stage with a 100 per cent record.

Kieran Jackson3 December 2022 18:10

1670090397
World Cup 2022: Argentina vs Australia
Lionel Messi's World Cup dream remains alive, but this time thanks to Argentina's next generation

By Mark Critchley in Doha

If you were watching this game closely enough at home and paying close attention to the far side of the pitch, you may have noticed that there were two tracks of dirt etched into the ground close to the touchline that almost resembled a number 10. A bit like when an elderly person in your local newspaper finds the image of Christ in a burned piece of toast, if you happened to notice it, it was impossible not to read this as a sign. What, if anything, did this mean?

What it meant, actually, was that this was the same area of the pitch where Poland's players had been doing shuttle runs during their warm-up. While pounding their studs into the ground, they had really marked out two zeros, only the outside of the first was hidden by the darker shade of grass. It was a sign, in a way, but only a sign that while you can squint and strain to see the poetry in life, reality is often far more prosaic.

It instead belonged to the others helping him get there, the team that he carries and is occasionally carried by, and the generation that will attempt to succeed him when all this is over.

The breakthrough was not found by the best of all time but a 23-year-old playing for Brighton. The second was scored by a 22-year-old, set up by a 21-year-old, all three of them combining to save the blushes of a 35-year-old who had missed a penalty.

Kieran Jackson3 December 2022 17:59

1670090037
World Cup 2022: Argentina vs Australia
The teams have arrived at the Ahmad bin Ali Stadium in Al Rayyan!
Kieran Jackson3 December 2022 17:53

1670089491
World Cup 2022: Argentina vs Australia – TEAM NEWS
Argentina starting XI: Martinez; Molina, Otamendi, Romero, Acuna; McAllister, Fernandez, De Paul; Alvarez, Messi, Gomez

Papu Gomez is in for Angel Di Maria! We're hearing Di Maria is injured.

Australia starting XI: Ryan; Degenek, Souttar, Rowles, Behich; Mooy; Leckie, Irvine, McGree, Bacchus; Duke

Keanu Baccus preferred to Craig Goodwin!

Kieran Jackson3 December 2022 17:44

1670088928
World Cup 2022: Argentina vs Australia
We now turn our attention to the second last-16 tie of the day, with Argentina heavy favourties against Australia.

Lionel Messi and Co got off to a terrible start as they were stunned by Saudi Arabia, but recovered to finish top of Group C after wins against Mexico and Poland.

For Australia – known as the Socceroos – they came second in Group D after brilliant wins against both Tunisia and Denmark after losing to France.

Kick-off at the Ahmad bin Ali Stadium in Al Rayyan is at 7pm (GMT) – team-news on the way!
Kieran Jackson3 December 2022 17:35

1670088568
World Cup 2022: Netherlands 3-1 USA – Louis van Gaal flips tactical plans to show World Cup he's still capable of new tricks
By Mark Critchley at the Khalifa International Stadium

In a way, this was a victory for the man but not the idea. This was not your typical Louis van Gaal performance. For the first time at this World Cup and for only the second since Van Gaal accepted a third stint in charge, the Netherlands ended a game without dominating the ball. Even when they had a lead to protect against a competitive and combative United States in the first last-16 tie of this World Cup they struggled to hold onto what they had and safely see the game out in the manner Van Gaal watchers have become accustomed to.

And yet in another way, it was the idea that got the man into that position. And once he had got there, he seemed pretty comfortable with it. The Netherlands took a lead that they never relinquished through the best team goal this tournament has seen to date – the goal that, you might say, the 36 year-long coaching career of Aloysius Paulus Maria van Gaal has always been threatening. Then, they always stayed one step ahead of Gregg Berhalter's side with a game plan that could hardly have been more different.

First to that goal, though. Eleven minutes in, here it was: starting in their own penalty area with Frenkie de Jong dropping between his centre-halves, taking the ball off his goalkeeper, laying it off to his team-mates nearby, offering himself up in space if they came under the slightest bit of trouble. It is the role that this most indefinable of midfielders believes he is best in, because it is from that most unsuspecting of positions that he can lay the groundwork for things of beauty. How else to describe the opener?

It started slowly but built into a crescendo once De Jong's conducting of the build-up play allowed the ball to break wide left. The pace quickened, from Blind to Memphis to Marten De Roon to Davy Klaasen, this burst of exchanges eliminating a United States midfield that had exceeded expectations at this tournament up until that point. Cody Gakpo, still some 45 yards out from goal, briefly looked tempted to try and score for the fourth consecutive game running but when the Netherlands are midway through a move like this, any individual urge is quashed for the good of the collective.

Kieran Jackson3 December 2022 17:29

1670088148
World Cup 2022: Netherlands 3-1 USA – MATCH REPORT
By Richard Jolly at the Khalifa International Stadium

The American dream is over but Louis van Gaal can still imagine glory. The Netherlands manager may have been in a minority of one when arguing his team could win the World Cup 2022 but his side marched into the quarter-finals with their best performance of tournament so far. There was vindication in victory for Van Gaal as the Oranje prospered courtesy of his blueprint.

The 71-year-olds has been criticised for abandoning the Dutch tradition of wingers, but his wing-backs proved potent. The second goal was created by Denzel Dumfries for Daley Blind, the third a role reversal.

Dumfries delivered the star turn, with two assists, a goal and a goal-line clearance. Only Johan Cruyff and Rob Rensenbrink had been directly involved in three goals in a World Cup game for the Dutch side before so Dumfries finds himself in elite company.

The other scorers were two survivors of the squad Van Gaal took to the semi-finals in 2014 and then to Manchester United, in Memphis Depay and Blind. Yet while his old boys helped, it was a triumph for the oldest manager in Qatar, a Van Gaal masterclass.

Netherlands' first-half double seemed to stem from his tactics board, each coming from a low cutback from Dumfries towards the penalty spot. Both were the result of his positioning, with Van Gaal using the wing-back's pace to get into space behind Antonee Robinson.

Kieran Jackson3 December 2022 17:22

1670087728
World Cup 2022: Netherlands 3-1 USA
How Netherlands scored the best team goal of the World Cup so far
Sometimes in football, a goal is scored that is so perfect in its design and so majestic in its execution that it appears to have descended from the heavens themselves. Within those halls of greatness, the 'team goal' sits above the rest. It is the illustration of cohesion of movement and understanding of space, particularly when it involves 20 passes, all 11 players, moving the ball from one end of the pitch to the other, and is scored in a knockout match at the World Cup.

Particularly, too, when it is scored by the Netherlands, and when it is conveying the ethos of 'total football' the country helped to create.

The opening goal scored by Louis van Gaal's side in their 3-1 win over the USA will by remembered as the finest team goal scored at this or any World Cup. That it came in response to a tactic that looked set to define this last-16 encounter heightens its brilliance too.

Before kick-off, the battle between the Netherlands and the USA was set to be as much of a contest between possession-based passing and high-energy pressing. After all, the USA had successfully disrupted England in their 0-0 draw in Group B, with the midfield trio of Tyler Adams, Weston McKennie and Yunus Musah earning rave reviews for their performances in Qatar.

The Netherlands, by contrast, had done just about the minimum required in Group A. Their passing had rarely looked sharp and the 3-4-1-2 system that Van Gaal has stuck by at the World Cup was struggling to provide the Dutch with any advantages against weaker opposition. Had it not been for the efficiency of Cody Gakpo, with three goals in three games from three shots on target, then the Netherlands might have found themselves in an uncomfortable situation.

Kieran Jackson3 December 2022 17:15