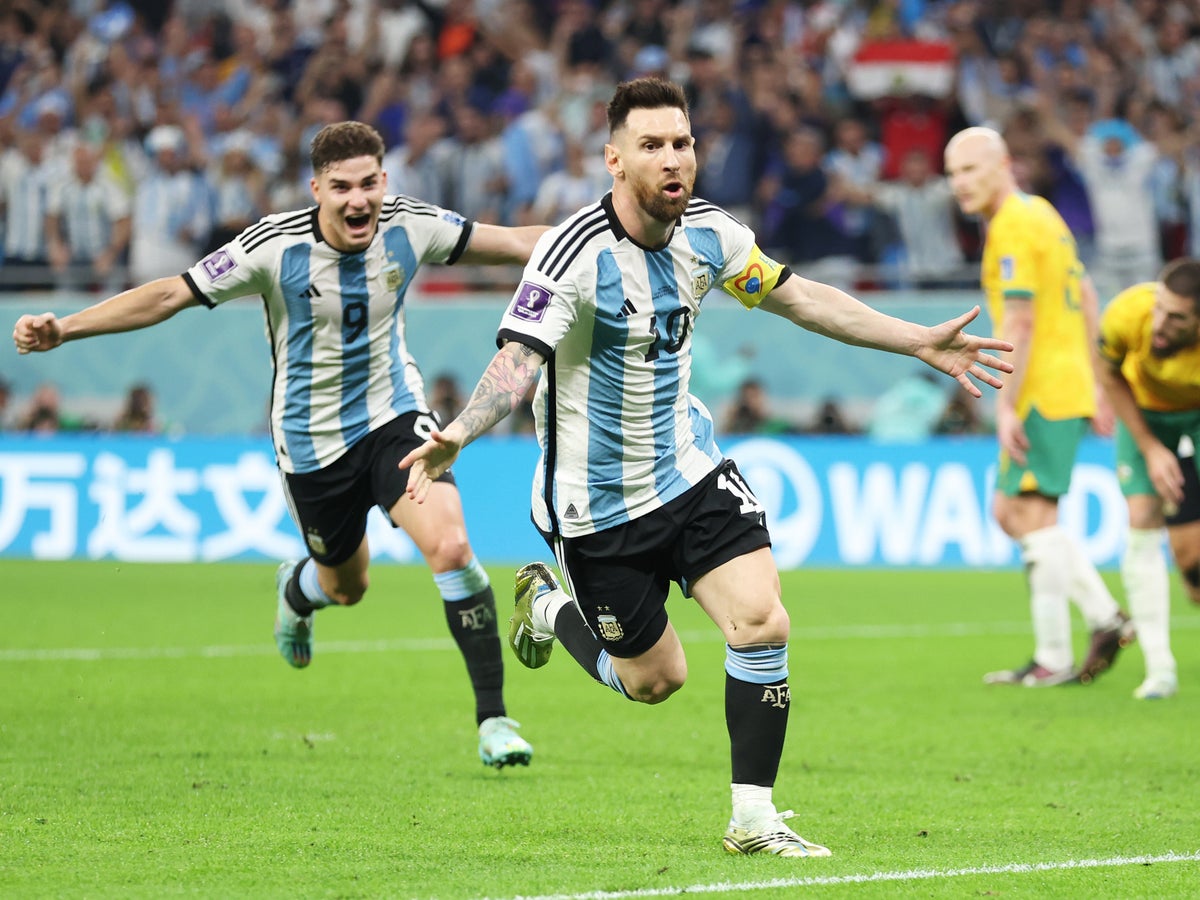 What we've learned as we enter the World Cup 2022 knockout stages | You Ask The Questions
Argentina avoided an upset against Australia on Saturday to book their spot in the Qatar World Cup quarter-finals, where Netherlands await.
A solid start for Australia was undone when Lionel Messi rolled home a tidy finish just after the half-hour mark, before Julian Alvarez pounced on an error by goalkeeper Mathew Ryan to double Argentina's lead in the second half.
But when a Craig Goodwin shot deflected off Enzo Fernandez and past Argentina keeper Emi Martinez, a dramatic finale seemed to be on the cards.
Argentina wasted numerous chances to secure the win, and their shot-stopper saved them in the final seconds to see them safely into the last eight.
Relive all the action with our live blog below.
1670103986
World Cup 2022: Argentina 2-1 Australia
Argentina survive high-wire act of hope and fear for one more day
By Ben Burrows at the Ahmad Bin Ali Stadium

The reaction said it all, Emiliano Martinez sprawled, spent, his very last drop given in the cause of his country. Nicolas Otamendi knew it too, collapsed alongside his goalkeeper, a win and a place in the last eight of this World Cup only then finally and mercifully secured.

It had taken every drop, every sinew for the two-time winners, dreamers of a third in a fortnight's time, to survive an onslaught from an Australia that never thought they would be here at all.

Their fairytale tournament is now over, the stadium they qualified for Qatar in a year ago against Peru, now the scene of their exit from it.

It took Lionel Messi to save Argentina again, Julian Alvarez too, and Martinez alongside them at the last to get them there but there they are, the Netherlands, foes so many times on this grandest of stages, their next step on their journey towards the trophy they crave the most.

That desire can be felt at all of these Argentina games at this World Cup, a feeling in the air you just can't shake. You could feel it outside the stadium walking in for this last-16 tie, the supporters here at this tournament as so many before it perpetually caught between hope and fear. Hope that this time, finally, it might just be their time. Fear though, that, again, it won't be once more.

Kieran Jackson3 December 2022 21:46

1670103206
ARGENTINA 2-1 AUSTRALIA – MATCH REPORT
By Miguel Delaney at the Ahmad Bin Ali Stadium

A touch, quite literally, of genius. As he hit a millennium of appearances, Leo Messi offered a moment that showed why he is not just the player of his generation but perhaps any generation.

There was no upset on this landmark occasion, but instead a suitably signature goal. Messi scored one of his trademark finishes, that exquisitely accurate slide into the corner, but on a stage he never has before. It was his first goal in a World Cup knock-out match, on his ninth such fixture.

It set Argentina on the way to a tough 2-1 win over a valiant Australian team, who continued to give a fine account of themselves right until the very end. For all the issues they gave Argentina, too – particularly for one defiant defensive challenge from Lisandro Martinez and one brilliant save from Emiliano Martinez when equalisers seemed certain – the wonder is whether that goal will also set them on the way to the final.

Lionel Scaloni's side do not look anywhere near as good as their long unbeaten run suggested, but they have a dogged momentum that will be difficult for better sides to play against, and is only further driven by thousands of raucous fans who make every match here seem like a home game.

It is a genuine experience to be at a stadium for an Argentina game, even in a host country as controversial and oddly stale as this.

It is of course an experience to watch Messi in a game like this, on an occasion, especially with the manner he again grew into a game.

Kieran Jackson3 December 2022 21:33

1670102125
Argentina 2-1 Australia player ratings as Lionel Messi scores first World Cup knockout goal in 1,000th match
Lionel Messi scored his first World Cup knockout goal as Argentina defeated Australia to advance to the quarter-finals and a meeting with the Netherlands.

In his 1,000th competitive match for club and country, Messi brought what was largely an uneventful first half into life as he coolly slotted the opening goal past Australia goalkeeper Mat Ryan.

Australia were able to get into half-time only a goal down but their slim hopes looked to have faded when Ryan was caught on the ball by Rodrigo De Paul, with Julian Alvarez finishing into an empty net.

Australia produced a response, though, after Aziz Behich's shot deflected off Enzo Fernandez and into the net. Behich was then denied a sublime solo goal by a terrific Lisandro Martinez block, as Argentina were made to hang on for their win. Emiliano Martinez was even forced into a last-gasp save to deny Garang Kuol.

Argentina will face the Netherlands in the quarter-finals on Friday, in what is a rematch from the 2014 semi-finals.

Here are how the Argentina players rated.

Kieran Jackson3 December 2022 21:15

1670101490
World Cup 2022: Argentina 2-1 Australia
Argentina celebrate wildly in front of their fans – they stay in Qatar and will face the Netherlands on Friday.

Australia oh so valiant in defeat. They've done their nation proud.
Kieran Jackson3 December 2022 21:04

1670101160
World Cup 2022: Argentina 2-1 Australia
FULL-TIME: Argentina – in the end – squeeze through to the quarter-finals!

Lionel Messi stole the show, scoring a brilliant opener, before Mat Ryan gifted Julian Alvarez a second goal for Argentina!

Yet Australia fought back! They got a lucky goal from Enzo Fernandez's deflection and were so close to a stunning equaliser right at the end!

But it's Argentina – and Messi – who will face the Netherlands on Friday!
Kieran Jackson3 December 2022 20:59

1670101077
World Cup 2022: Argentina 2-1 Australia
90+7 mins: Australia's 18-year-old sub Garang Kuol so close to a shock equaliser!

The ball breaks to Kuol at the back post and he shoots, but Emi Martinez saves brilliantly with his right arm!

So close for the Socceroos!
Kieran Jackson3 December 2022 20:57

1670100915
World Cup 2022: Argentina 2-1 Australia
90+5 mins: Carnage in the Australia penalty area!

Martinez has another shot saved by Ryan before Messi can't control his follow-up!

How have Argentina not put this to bed? Australia still just a goal shy…

Kieran Jackson3 December 2022 20:55

1670100818
World Cup 2022: Argentina 2-1 Australia
Messi feeds in Martinez and this time the striker forces Ryan into a save, good stop!

Messi then gets the ball again and has a go himself, curling it just wide!

Kieran Jackson3 December 2022 20:53

1670100680
World Cup 2022: Argentina 2-1 Australia
90 mins: Seven minutes of added-time. Will Australia get another chance?

All they need is one more opening…

Kieran Jackson3 December 2022 20:51

1670100557
World Cup 2022: Argentina 2-1 Australia
89 mins: What a miss from Lautaro Martinez!

Messi does all the hard work, feeding in the Argentina substitute but he strikes over!

Australia still in this! Just!

Kieran Jackson3 December 2022 20:49