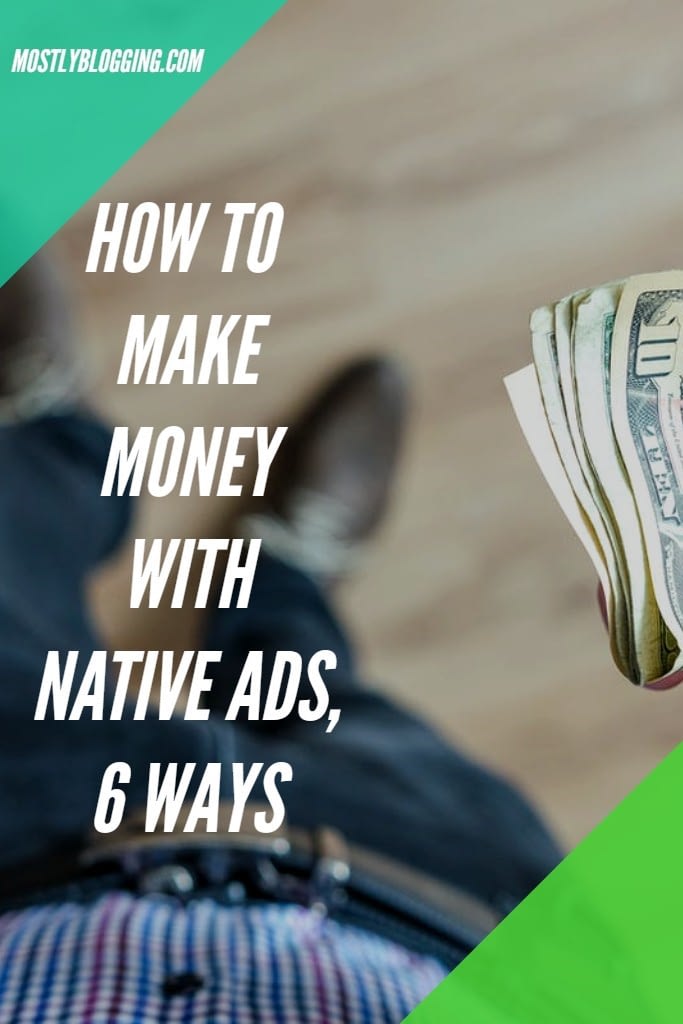 Are you ready to purchase an ad?
This guide describes and shows examples of the following native advertising platforms:
Your website
Google
Facebook
Snapchat
By reading this guide to native ads, you get strategies for affiliate marketing and custom advertising. You also see native advertising examples on Snapchat.
This article has powerful digital marketing ideas for
search engine marketers
inbound marketers
content marketers
affiliate marketers
social media marketers
Six Types Of Native Ads To Know
In today's world, affiliate marketing software and native advertisements are the two most crucial marketing strategies for businesses.
While affiliate marketing is everything about traffic, native advertising takes the affiliate promotional tactics further by delivering customized and user-engaging content.
On this note, here are the top six types of native ads that you must understand.
Bring on the native advertising platforms.
#1 In-Feed Units
In-feed native ad units are nothing but the sponsored posts on your social media handles on the publisher's site. These ads are paid placements and appear directly in line with other posts, editorial content, and articles.
In-feed units are different from one site to another because they fit into every site's user experience. These ads are a significant type of native ads. So, you get the complete ability to customize them and match the look to feel the content.
In-feed ads get incorporated in between your feed's content. Alternatively, they can also be included at the beginning or end of the feed. As viewers scroll down the content, they see in-feed ads. Given that these ads fit seamlessly inside the feed, they aren't intrusive; neither do they break the user's flow!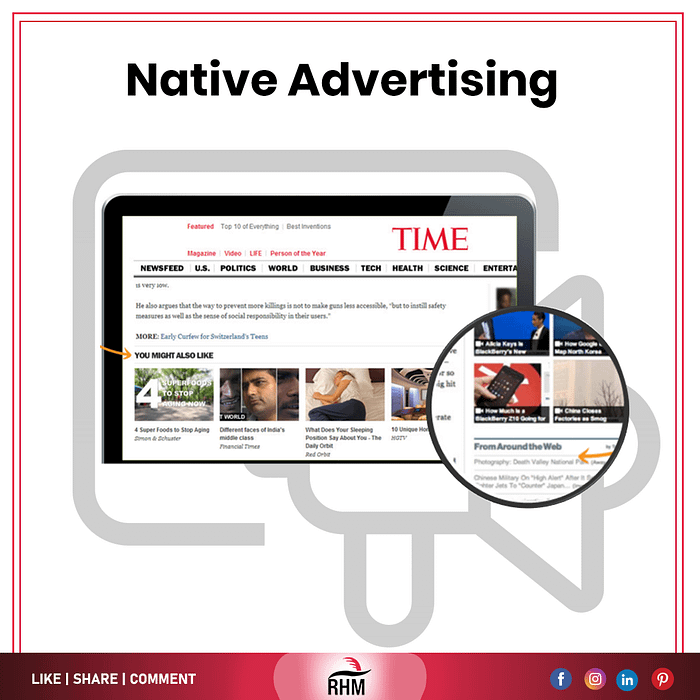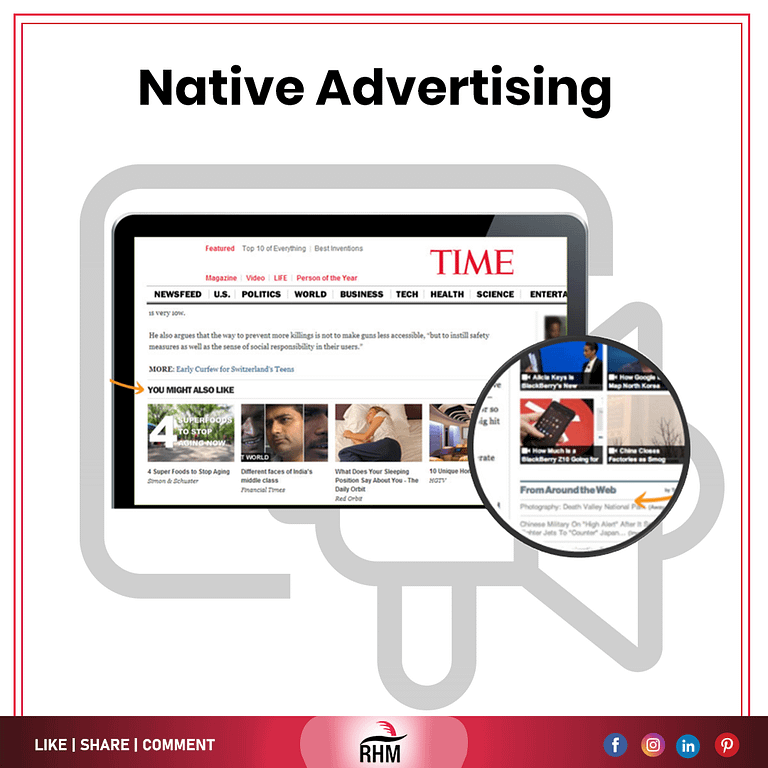 A look at the screenshot makes an understanding of native ads clearer. On this site, the ad is in the sidebar. Therefore, it does not interrupt the user's flow while reading.
Since the advertisement is in the feed of the online publication, this type of ad is called an "in-feed unit."
#2 Paid Search Units
Before choosing suitable native ads platforms, it's essential to learn about the native ad types. So, the next is the paid search ads. These ads are just like the promoted listings except that these listings appear at the search results' top. They get used for both search engine marketing and within the search results for the individual domains.
When a user types something on Google, a list of results gets posted. These show both paid as well as organic results. Paid search results comprise a green box with "ad" before that listing.
This is where the companies pay for having the page show up at the top. It might get achieved with the use of Google ads search campaigns. It charges you right when a visitor clicks on the link. Paid search units are immensely beneficial for driving traffic to the website via relevant ads.

The SEO company Semrush bought a paid search unit. As you see in the screenshot, the ad for Semrush's SEO tool sits at the top of Google's Search Engine Results Page for the relevant term. Then, when people search for a keyword tool, they see Semrush's ad.
#3 Content Recommendation Widget
A very common recommendation widget unit gets integrated into the page. It doesn't mimic the editorial content feed's appearance. They allow brands and businesses to leverage audiences of the most significant publishers to generate traffic to the website.
Content Recommendation Widgets are excellent for publishers who aim at increasing the audience. For brands that use content marketing to generate leads, these widgets are beneficial.
The quintessential consideration for advertisers is to grow relationships with the publishers who can drive traffic back to the websites.
I have a content recommendation widget on this site.
Look: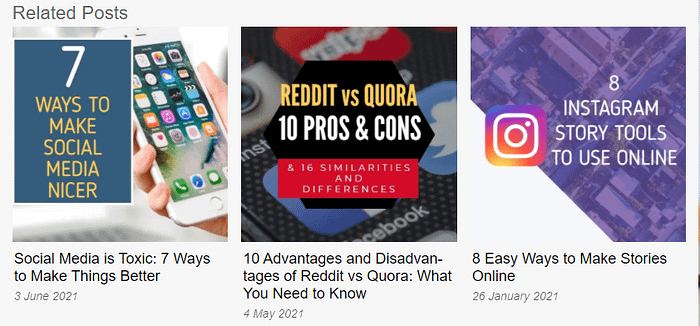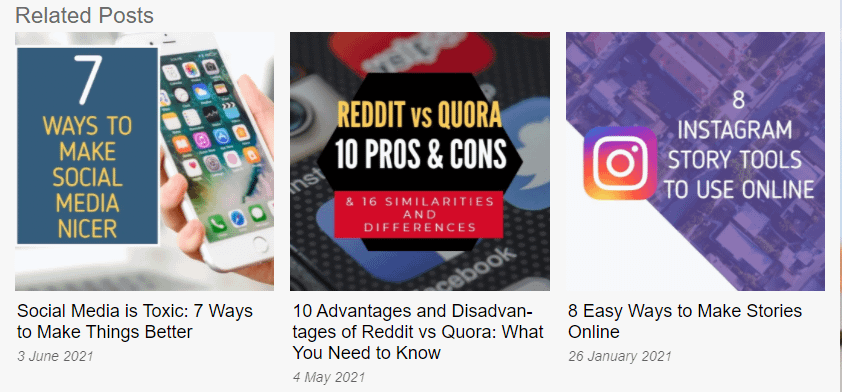 My content recommendation widget, Bibblio, advertises my related content at the bottom of the article. This is a way for me to boost traffic by showing ads for my related blog posts in case visitors want to read more about the topic. Bibblio can also be coded to appear in custom themes.
This form of in-bound content marketing works. The post is about Reddit vs Quora. Can you tell how the advertised content relates to Reddit and Quora? They are all ads for my other social media content.
#4 Promoted Listings
The most common example of promoted listings can be understood by people who have a knack for online shopping. So, for online shopaholics, promoted listings are pretty common. They see these listings regularly.
Let's say when you shop for your favorite product from an online retail store. You are going to see several sponsored listings appearing. Nonetheless, even if they are paid, they look organic.
This way, when they appear on the listing, customers don't realize that they are a type of native ads. They are made to look like the organic listing is enough to justify the statement described above.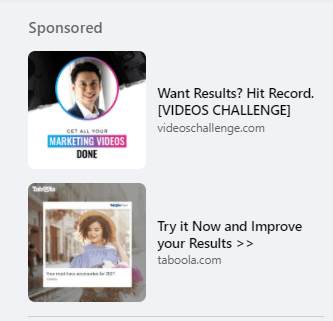 As my article explaining, "What is a dark post?" shows, promoted ads sit on the side of the social media platform. They don't interfere with the user's experience as they scroll through their social media account. Yet, they are quite visible which makes shopping easy for the consumer and profitable for the advertiser.
This promoted ad came from Facebook. Notice that it is labeled "sponsored." This type of ad is called a dark post since your friends and family won't know you paid to boost the visibility of your content.
#5 Display Ads Featuring Native Elements
Display ads that come with native elements look just like other ads that you notice online. Interestingly, you can even see them in the ad banner or container. So, what's that one thing that makes them native?
They are contextually relevant to the website or content where they appear. They look like standard ads. However, they have significant contextual relevance with publishers. Take the example of the food brand that might promote the proprietary recipes on the websites!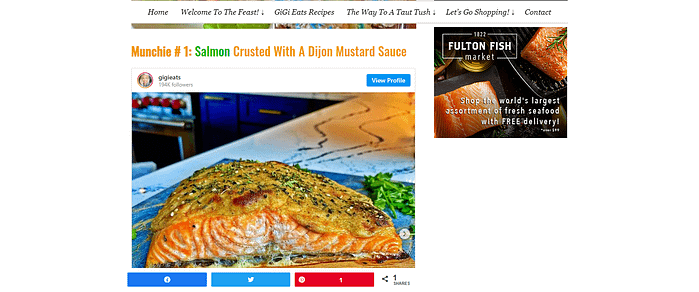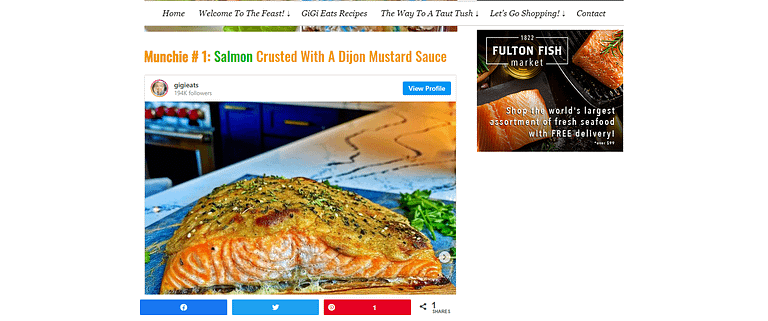 The recipe site Gigi Eats Celebrities shows a recipe for salmon. In the sidebar, Gigi shows a fish ad.
The two elements are so closely related, you're not sure you're even seeing an ad.
As an affiliate, Gigi, the site admin, gets paid a commission when people purchase. Having an ad related to the content next to the content on the site is an effective and popular affiliate marketing strategy.
#6 Custom Ads
Given the rapid change in technological revolutions and the potential for publisher partnerships, custom ads are opening doors of opportunities for native advertising.
Whether it's about designing a Snapchat filter or other filters, custom native ads are incredibly beneficial. The filters are the form of paid media. They fit within the user interface of the apps alongside other filters.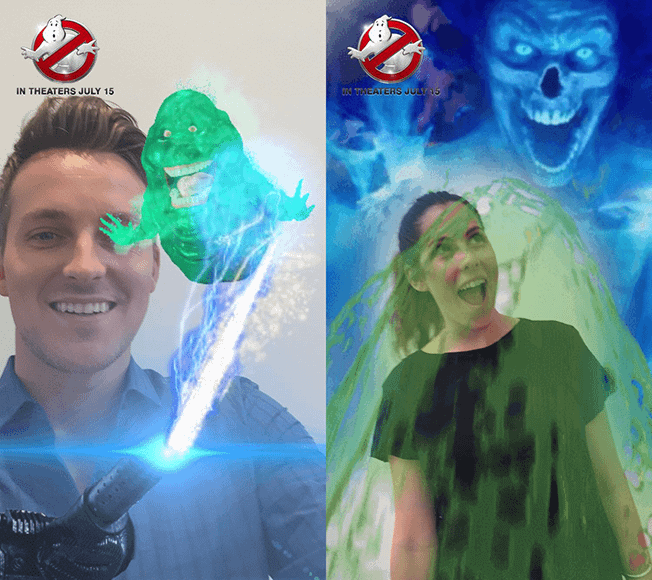 As you can see, the movie advertiser put a Snapchat filter on the ad for the movie.
This is a great example of custom advertising. Since the movie, Ghostbusters, promoted in the ad, is about ghosts, the ad is more effective with the filters.
Snapchat's filters make custom advertising easy.
One of the advantages of Instagram is that Instagram has filters as well which makes custom advertising easy on Instagram and equally effective if not more so. Instagram's user base is well over one billion users.
Native Advertising Platforms: People Also Ask
Where Can I Buy a Native Ad?
You can buy a native ad on Google or social media sites. You can also advertise on other people's websites.
Wrapping Up: Native Advertising Platforms
In closing, this post went over these native advertising platforms: Google, social media sites, and your own website. This guide also showed you native advertising examples.
Native advertising is indeed an unobtrusive and refreshing advertising form. So, now that you've learned the six different types of native ads and the various native advertising platforms where you can place your ads, it's time to opt for the right platforms.
Readers, please share so marketers discover the choices for native advertising platforms where they can place their ads.
I look forward to your views in the comments section. Do you have experience advertising on these native advertising platforms? Are there additional native advertising platforms you would recommend?
Authors: Janice Wald and a Contributing Author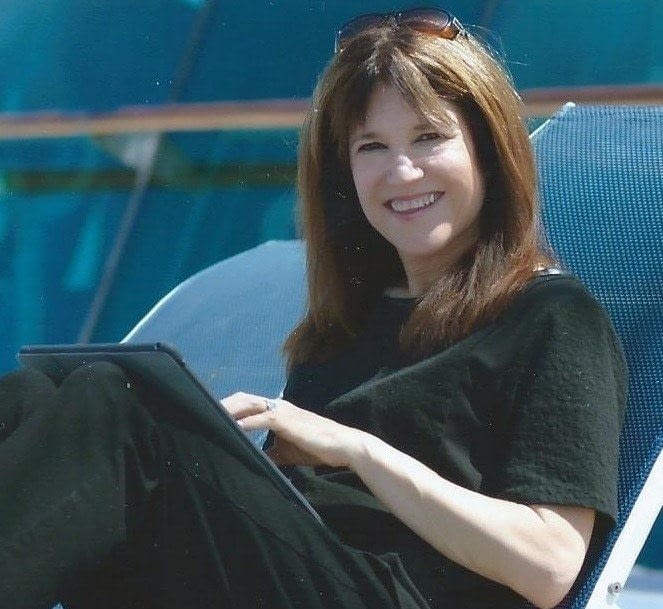 Janice Wald is the founder of MostlyBlogging.com. She is an ebook author, blogger, blogging coach, blogging judge, freelance writer, and speaker. She was nominated as the 2021 and 2019 Best Internet Marketer by the Infinity Blog Awards and in 2017 as the Most Informative Blogger by the London Bloggers Bash. She's been featured on Small Business Trends, the Huffington Post, and Lifehack.
This post was made possible by the support of our readers.