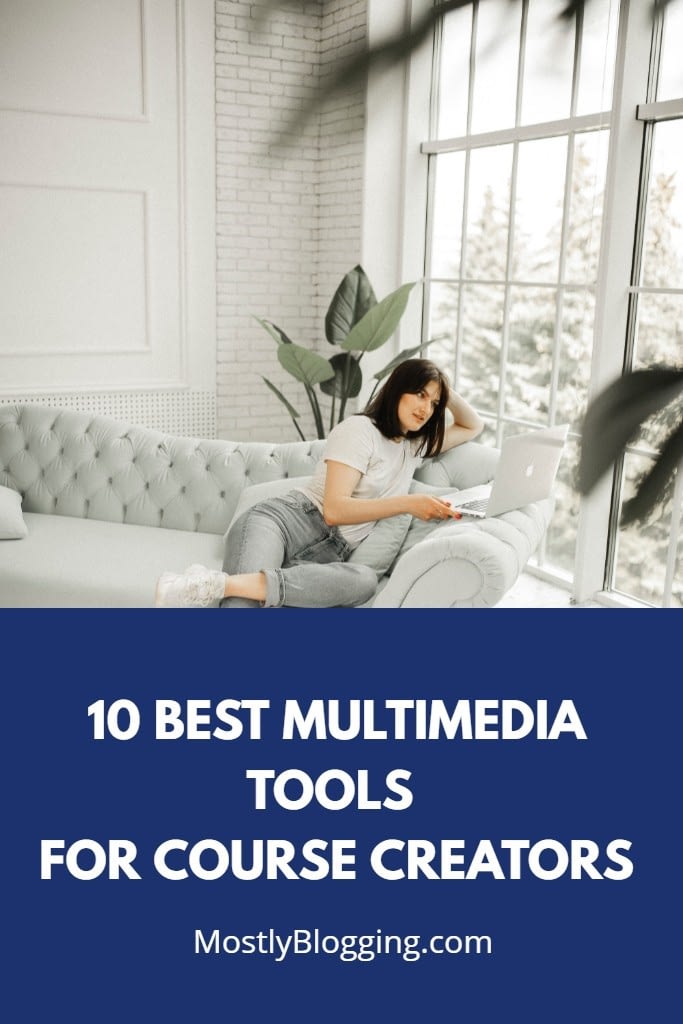 Are you looking for multimedia authoring tools?
If you are a content creator, you need them.
By reading this guide to multimedia authoring tools, you discover why you need software for content creation. This post also contains reviews of the 10 best multimedia authoring tools.
If you are an online course creator, these reviews are for you.
Let's dive in and find out about the best multimedia authoring tools.
10 Best E-learning Multimedia Authoring Tools
What is an E-learning authoring tool?
An e-learning authoring tool is software for creating digital training content. These tools are ideal for tutors and content creators to deliver and receive messages.
After creating content, you can convert it to an e-learning format and distribute it to an audience via a learning management system.
Digital training content includes e-courses, assessments, simulations, and video lectures. But some authoring tools are for specific kinds of content. For example, some of these resources will only allow you to create quizzes.
However, most authoring tools have the range to make your work easier irrespective of your preferred content type.
What are multimedia authoring tools?
Multimedia authoring tools combine different forms of media into the training materials. For instance, multimedia authoring tools use text, graphics, audio, and video.
Related Reading: The Splice App has this kind of multimedia functionality.
Why Do You Need E-learning Multimedia Authoring Tools?
Now that you know what authoring tools are, we should briefly discuss their benefits. If you are a teacher, using an e-learning authoring tool can significantly improve your teaching methods.
Below are a few reasons to consider these tools:
Just as students need DoMyEssay, an essay writing service, to make their lives easier, as an educator, you need authoring tools to make your job easier. These tools are relatively easier to adopt than traditional programming languages. So you can easily create and develop interactive training content with them.
Many authoring tools have features that get the job done in minimal time. Anyone with basic technical skills can easily navigate through them. And due to this ease of use, you don't need to spend time and money learning new programming languages to create interactive content.
They Get the Job Done Faster
All you need to do is to choose your preferred authoring software based on the features suitable for your work. When creating content, you have many layouts, templates, and preset interactive activities to play with. They help you complete your task faster than you would have if you built each design from scratch.
These e-learning resources also help users digest content in a shorter time. They reduce the content length and make it more understandable for students to learn faster and have time to focus on other responsibilities.
Most Authoring Tools Are Affordable
E-learning authoring tools are cost-effective. They drive costs down by eliminating the need for third-party software and media. Authoring tools come with LMS (learning management systems), which means that you don't need an additional third-party tool.
Designed for Accessibility
Another good thing about e-learning authoring tools is their accessibility. There are no limitations with authoring tools, and you can use them to create learning content on the go.
Best E-learning Authoring Tools
It's not enough to know what authoring tools can do for you; you must also know which ones to choose.
Here are ten e-learning multimedia authoring tools for facilitating your training content creation.
Articulate Storyline 360
Storyline is a prominent name in the authoring world. It is clean, modern, and comes with many powerful features. A fan-favorite part is how it allows you to organize your courses using storyboards. This platform takes things a step further by dictating the best path for the learner. Storyline offers a subscription option and a one-off purchase for you to choose from, depending on your budget.
Articulate Rise 360
Rise 360 is not too different from Storyline. It is another high-value authoring tool from Articulate. However, this software focuses on producing mobile-responsive content. This service is a smart option for those who want to create courses that are compatible with every device. And as expected of a mobile-centric tool, it has a clean and modern interface.
Adobe Captivate
We know the Adobe company pioneers sleek content creation apps, which is in abundance in the Captivate software. This e-learning tool is feature-packed, and its interoperability with other Adobe tools makes it one of the most versatile on this list.
You can storyboard your courses with Adobe Captivate or use the PowerPoint feature to hasten the course creation process.
elucidate
Elucidat is a cloud-based authoring tool that focuses on making amazing e-learning content quickly. It is user-friendly and helps you build content with its preset features. You can also opt to start from scratch if you want something unique. Elucidat has a plain UI, smooth user experience, and is optimized for all screen sizes.
iSpring
One of iSpring's magic tricks is that it helps you convert PowerPoint content to e-learning courses. You can also use it to incorporate slides, videos, interactions, and assessments to create more engaging content. However, it runs on PCs, so if you are a Mac user, you must install the Windows OS before you can use this software.
Camtasia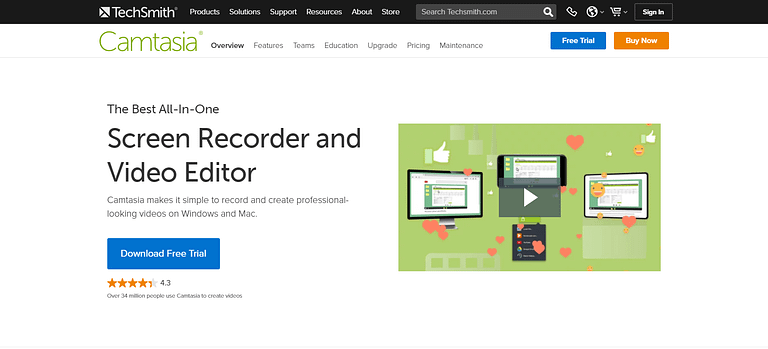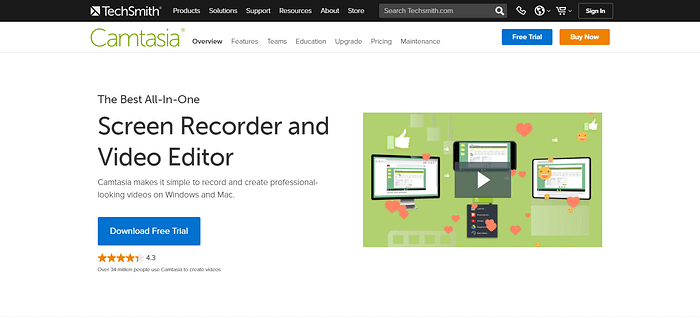 Camtasia is a video capture tool that you can use to spice up your PowerPoint presentations by recording narrations and your face simultaneously. This feature helps infuse a human presence when presenting courses remotely. Camtasia isn't the most feature-packed tool on this list, but it is accessible and cheap. Camtasia Studio 8 is a popular version of Camtasia.
Related: This video idea generator offers an example of a video make with Camtasia.
Composica
Composica aids smooth collaboration and enables you to create content with colleagues and friends seamlessly. It is handy for project managers as they can add different users and assign tasks to them. Composica's pricing is also competitive for small and large institutions.
Knowbly
Knowbly is a simple but effective authoring tool that contains all the features an e-learning newbie will need. This tool also allows you to organize all your content in one system, eliminating the need for multiple apps.
Knowbly allows the drag-and-drop feature in content creation, making it fast and intuitive. And you get mobile responsiveness, easy customizations, and other worthwhile perks.
Online Reader
Lectora is a cloud-based e-learning authoring tool that works flawlessly on the Windows OS. This tool integrates well with Snagit and Camtasia. So, when creating learning content with Lectura Online, you can make screen recordings, edit images, and record voice-overs.
Gomo
Gomo is a "mobile-first" authoring tool that is ideal for beginners. The platform's responsiveness will help you work without lags. Also, this authoring tool has a drag-and-drop feature with visually attractive media assets to make your content more engaging for audiences.
Multimedia Authoring Tools for E-learning: People Also Ask
What Are Multimedia Authoring Tools?
Multimedia authoring tools combine sound, video, graphic images, and text to make learning software. Course creators use multimedia authoring tools.
What Is the Best E-Learning Authoring Tool?
The best e-learning multimedia authoring tools will vary depending on your needs and your budget. This guide reviews 10 of the best multimedia authoring tools for e-learning so you can decide for yourself which tool is right for you.
In Conclusion: E-Learning Multimedia Authoring Tools
Authoring tools are practical resources for e-learning and distance education. They are easy to adopt and ideal for 21st-century creators looking to develop ideas quickly.
There are dozens of authoring tools on the internet, but we have highlighted our top ten based on affordability, features, and accessibility. So feel free to use any that works best for you and let your creative juices flow.
Readers, please share so other content creators looking for multimedia authoring tools for e-learning find this post.
I look forward to your views in the comments section. Do you have familiarity with these tools? What are your experiences? Are there more multimedia authoring tools for online learning you can recommend?
Author: Elizabeth Shirley
Related Reading
Mostly Blogging offers e-learning. Check out the Mostly Blogging Academy.
This post was made possible by the support of our readers.